EXCEPTIONAL PERFORMANCE AND CUSTOMIZATION
Suspension Grips with performance proven in cycling and motorsports all around the world.
EXTREME DURABILITY
ELITE COMPANY
THE BEST ENGINEERS IN THE WORLD WORK IN FORMULA ONE. REVGRIPS ARE TRUSTED BY THE WILLIAMS F1 TEAM TO HELP PREVENT HAND INJURY DURING PIT STOPS.
CHECK OUT THE PRESS RELEASE
Impressive PERFORMANCE
ISOLATE YOUR HANDS AND IMPROVE COMFORT ON BIKES AND ATV'S.
REVGRIPS SUSPEND YOUR GRIP FROM THE HANDLEBAR INSTANTLY IMPROVING COMFORT AND PERFORMANCE
how they work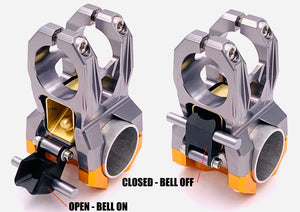 not just another stem in a saturated category
REVGRIPS PRO SERIES STEM
HIDDEN TRAIL BELL THAT IS EASILY SILENCED. MOUNT A GO-PRO OR HEADLIGHT RIGHT IN THE CENTER OF YOUR BIKE.
Shop STEMS
Shop All